I freaking love seeing teenagers raise hell to protect their right to read awesome books.
A school district in Idaho tried to ban George Orwell's 1984 last week, after "at least one parent" (one parent!) complained about the fact that the book includes violence and sex.
And they would have gotten away with it too, if it weren't for those meddling kids.
The book, which depicts a dystopian future state characterized by extreme control over citizens' thoughts and behavior (this story honestly writes itself), was being used in a senior-level government class at Rigby High School, and apparently the kids were paying pretty close attention. After having their books literally collected from them, an anonymous petition went up denouncing the school's decision and demanding the book be reinstated in their curriculum.
Only then did the district give their weak version of the story: all they did, they said, was consider a ban; their final (cowardly) decision was to leave the book in place, but also offer alternative lesson plans for when parents complained. According to their press release, that decision mysteriously "didn't reach" the classroom; hence the book-grabbing.
Ok.
The timing of all of this is perfect, since this week marks Banned Book Week, launched in 1982 as a response to a sudden surge in the number of challenges to books in schools and libraries that year. Since then, more than 11,000 different books have been banned, with a lot more going unreported.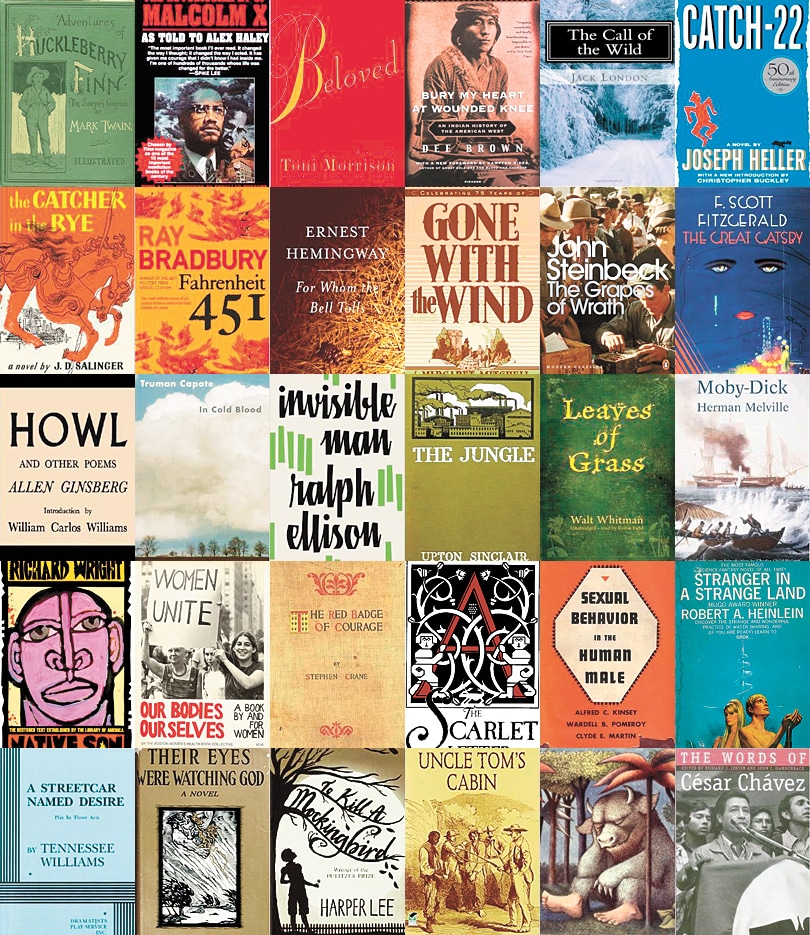 It seems like every year, some paradoxical story comes up around Banned Book Week: a novel about censorship being censored, or a book about discrimination being banned for mentioning homosexuality. A few years ago, a Texas school district banned seven different books during Banned Book Week; only three of them were even a part of the school's curriculum.
Here's the thing: the most frequent reasons given for banning books are things like cursing, depictions of sex, "too dreary," too violent, presence of witchcraft, "criticizing capitalism," or blasphemy (really).
But Shakespeare, Homer, Sophocles, the Bible, that really boring book 1066 that we all had to read – schools and libraries are full of books that are overflowing with bannable offenses.
And yet, the list of books banned by any given school district tends to look more like this:
The Working Poor: Invisible in America by David K. Shipler
The Absolutely True Diary of a Part-Time Indian by Sherman Alexie
The Bluest Eye by Toni Morrison
It's Perfectly Normal, by Robie Harris (a sex-ed book reassuring pre-teens that their bodies are nothing to be ashamed of, banned for nudity)
I Know Why the Caged Bird Sings, by Maya Angelou
Pulitzer Prize winners, National Book Award recipients, classic children's books – take any list of banned books and it could double as a list of the most important books for young people to read.
Sherman Alexie, who frequently appears on these lists, once pointed out that there are probably some unspoken reasons for which books get challenged and which don't:
The real reason my True Diary gets banned? Because it's about the triumph of a liberal Native American rebel.

— Sherman Alexie (@Sherman_Alexie) September 22, 2014
I mean, it checks out.
I can't think of a year that Banned Book Week was more important than this one. Plus, being a kid sucks enough as it is! I'm not one of those people who's freaking out that kids "aren't reading" anymore (they are, and they're doing it more than adults), but I am one of those people who's worried about kids feeling increasingly isolated, or depressed, or anxious, or pessimistic. It might sound nerdy, but books – paperback, on a Kindle, on a phone, wherever – are such good antidotes to all that.
But no kid wants to read something that doesn't speak to them. Shakespeare is awesome if you're predisposed to theater or lit, but absolute torture if you're not, and forget Homer or Sophocles or any of those moldy, inscrutable dead guys.
The glorification of ignorance, the resurgence of the regressive right, and a bleak climate future are a really, really bad combination for teenagers. And I think we often forget that anyone 16 or younger has never known a time when the U.S. was not at war.
So I say let the kids have their books. Celebrate them when they fight to keep them. Most importantly, support them when their parents and teachers won't.
Because I personally would really, really prefer that our future senators have read 1984 in high school, and not just a handful of crumpled abstinence-only pamphlets.